New On-Demand Webinar for Employers
For 2019, we expect an even greater labor shortage across America – especially in remote and/or resort-focused regions. This combined with the customer service challenges of the usual high summer rush leaves employers like yourself short staffed in your busiest season. Plus, we'll continue to face H-2B challenges that will hinder that specific option for seasonal workers.
Are you ready for a 2019 that's set to be the most challenging labor market to date?
Tourism and hospitality operations across the country will be competing for the same small pool of available labor – and as hires are made, that pool will shrink every day. But it's not all gloom and doom – succeeding in the face of change is about being prepared. Watch our recent webinar recording to learn how, with advanced prepping, we can help you meet your staffing challenges head on.
Opt-in To Watch Webinar Video Now >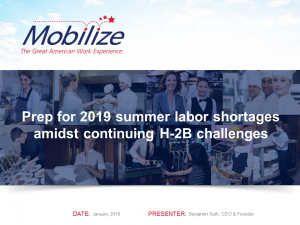 With continuing H-2B challenges and the low 3-4% unemployment rate in America, how will your business attract American workers?
Our webinar will show you how to RECRUIT and EMPLOY American seasonal workers, and RETAIN summer staff in this tighter-than-ever, labor-strapped, competitive market.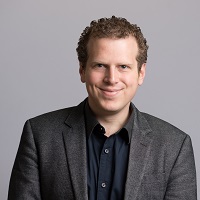 Mobilize Jobs CEO and founder Benjamin Guth provides insights, tips and tricks we've learned from recruiting and deploying close to 1,200 young workers to date. We've placed workers at over 65 properties across Canada since 2014 and within America across two 2018 seasons. Plus we share our 30+ years of international recruitment experience and provide perspective on H-2B challenges for 2019.